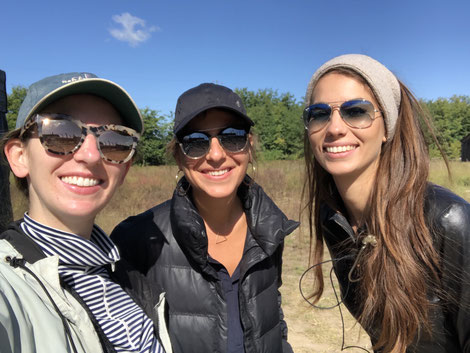 I would like to welcome you all to the Indie Film Distribution Summit. I'm very glad you've taken the time out of your busy day to read this short introduction – please allow me to start by telling you a bit about myself. My name is Zsofia Szemeredy and I'm a recent graduate of the Marketing, Distribution, Sales and Exhibition MA course at the NFTS. I've been working in the industry for seven years now and my very first job was in exhibition; more precisely, I started as a front-of-house member of staff, glamorously selling popcorn and tickets at the Odeon Leicester Square cinema, where I had my ever-so-impressionable initiation into attending galas, premieres and film festivals. Since then, I've worked as a freelancer in various areas, trying to learn as much about filmmaking, storytelling and the film business as I could, from every possible angle.
I'm always about understanding the 'Bigger Picture' - this is partly the reason why I'm so passionate about distribution and sales and why I think it is every filmmaker's responsibility to have a basic understanding of this final, yet extremely crucial step of filmmaking: REACHING YOUR AUDIENCE.
Is this not, after all, the main aim when you create something? To get it seen?! But how do you do this when so much film and TV content is competing for your attention on every platform, during every minute of every day?
Filmmaking has become much more accessible, especially over the last decade. I remember seeing the news about the first film that was ever shot on an iPhone, and now… my twelve-year-old sister shuts her door on me, asking not to be disturbed because she and her friends are making movies, editing and animating on her computer/phone for their TikTok accounts. Not even Instagram anymore. Anything is possible. This young generation inherently knows how to market itself and its products, but those of us who were born before the Noughties may have a different approach.
I'm of the opinion that learning about the business side of filmmaking can be just as creative as what traditionally comes before, and learning the basics of how to make your project successful should never be neglected. 
So, let's get down to it – albeit very briefly, since it will be much more enjoyable to hear it from our stellar speakers on the day than to read a lengthy explanation here.
Many of you must be wondering what a distributor actually does or how the role differs from that of a sales agent
A sales agent is an intermediary company, a link in the chain, that will sell the rights of a film on behalf of the filmmakers to domestic markets worldwide. Meanwhile, a distributor usually operates within a particular domestic market and is an expert on its tastes, possessing the necessary knowledge to connect a film with viewers.
So what is distribution? Ultimately, it is about reaching your audience.
It is a very complex business and often very expensive and time-consuming. Without a doubt, one of the main benefits of understanding the basics is the amount of time and money you'll be saving.

What does a Distributor do?
A distributor is responsible for
-        Positioning your film in accordance with how you want it to be perceived; for example, by genre and type (romantic, martial art, sci-fi etc.)
-        Identifying your audience: primary, secondary, tertiary
-        Planning how to reach your identified audience and financing this plan
-        Making your film accessible: connecting it physically with your audience in the right format
-        Getting people to see your film: parting with their cash and time is painful
Where does Distribution and Sales sit in the filmmaking process?
Traditionally, distributors were one of the last links in the chain to connect. They were the people in direct contact with cinemas where people would physically see your film.

BUT! The traditional value chain has come under severe threat with the arrival of Netflix, Amazon, Hulu, Apple+ and Disney+ and the like.
If we were in a sci-fi/fantasy movie, the history books would definitely give some catchy title to this period such as The Great War of the Streaming Giants or The Tsunami of SVoDs vs The Distribution Dinosaurs.

Companies are increasingly producing content in-house, in order to be able to funnel their pipelines. Meanwhile, others have vertically integrated their business models to handle sales, distribution, home entertainment and exhibition, all under one umbrella. This all means that distributors get on board much earlier – often as early as the script or ideas stage!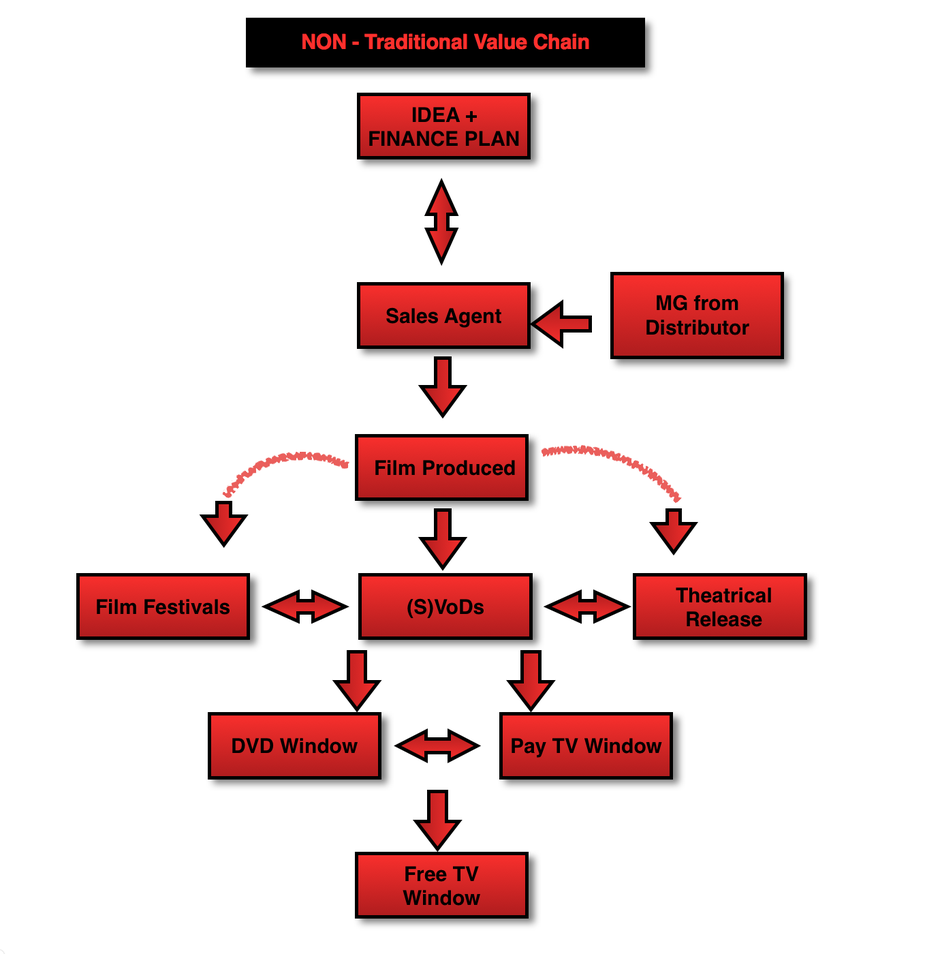 Day-and-Date releases are common news now (which means that a film is released on DVD, VOD platforms and Pay TV simultaneously) and the debate over whether SVoDs should be allowed to show their films in cinemas is only becoming more and more heated: you can read an article on how Scorsese's The Irishman was not accepted in US cinemas here.
According to the Film Distribution Association, 'a total of 916 films were released in UK cinemas in 2018 – equating to almost 18 new releases per week'.
That's not counting films that toured the festival circuit but didn't receive a theatrical release. This looks like truly daunting competition from where I'm sitting, especially if you don't have a plan for how to permeate the market (cost-) effectively.
Out of fear of overloading you with information, I won't go into further detail for now; however, if I have piqued your interest, check back in frequently for further updates.
Let me finish by recommending these three books: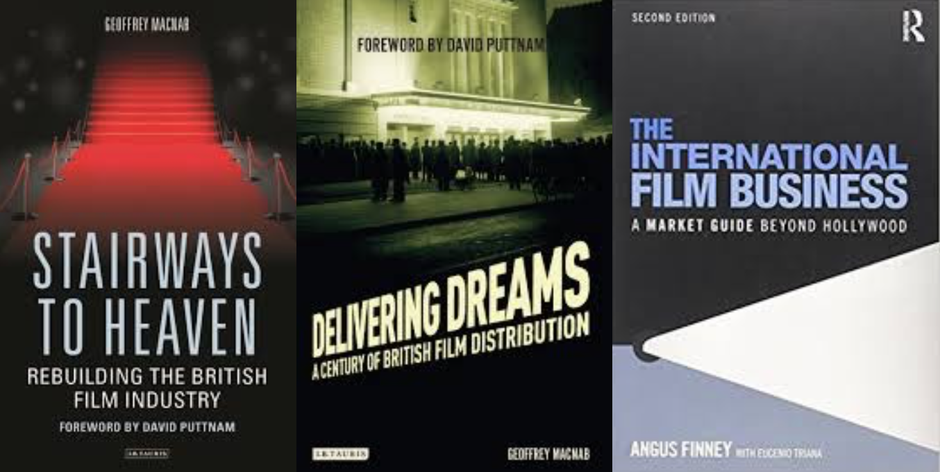 I had the great pleasure of participating in two Meet the Author sessions with Geoffrey Macnab and Angus Finney after reading their books. Macnab's Delivering Dreams talks about the history of distribution and gives the reader case studies by decade. It's really helpful for acquiring an overall picture of the distribution and exhibition landscape in the UK, from its very beginning to the present day. Macnab's subsequent book, Stairways To Heaven, is the most practical, entertaining and informative book on the recent decades of film distribution I've ever read, whilst The International Film Business provides incredible insight into the business of filmmaking itself, which is equally useful for both producers and distributors. These three books should be kept close. Very close.
Enjoy! And I look forward to seeing you at the Summit!
Best,
Zsofi